Shortly after Cyclone Nargis hit the Irrawaddy delta of Burma May 2nd two travel organizations that Generosity in Action has worked with for a number of years asked if we could collect funds for them to distribute to help the local people. We were happy to do so. [As of 6/30 we anticipate that further funds will go to repbuilding schools in the area and for plowing equipment as described in later reports.] Below you will find segments from emails received from them. If you wish further information, please email me at duncan@GenerosityInAction.org
You can send donations for aid to the people in Burma.
Click here for information.
These photos go with the June 10 report to the right.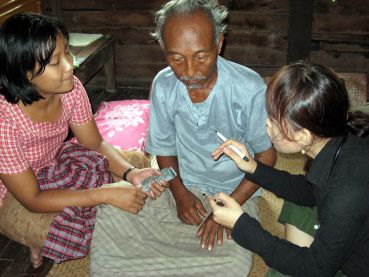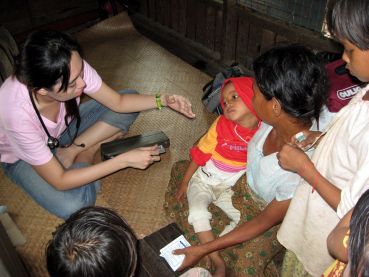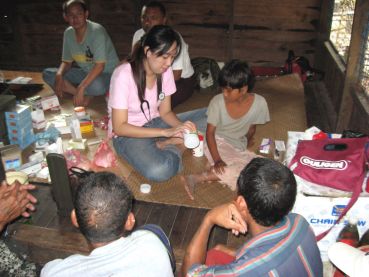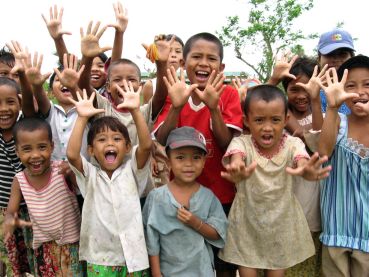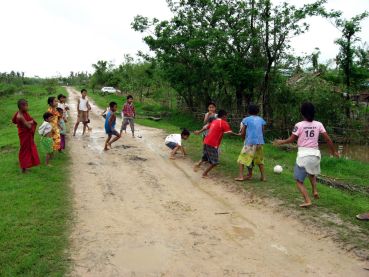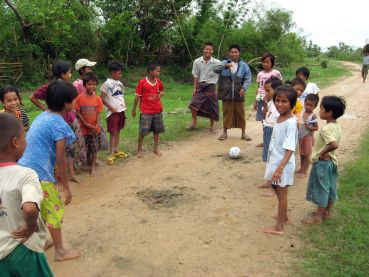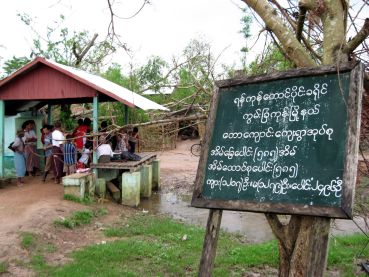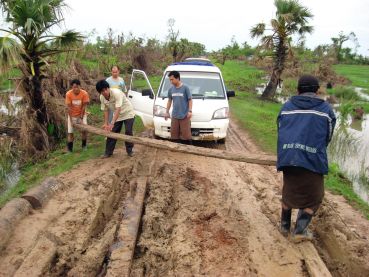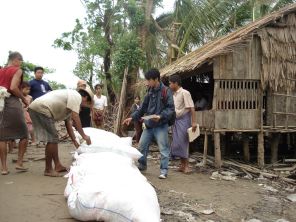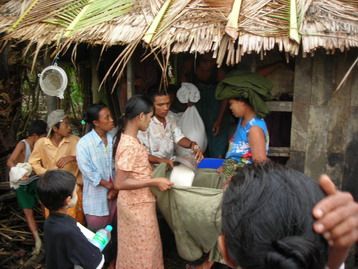 Handing out rice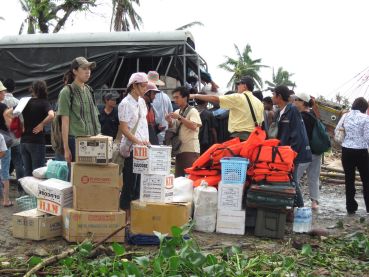 Getting our supplies ready to deliver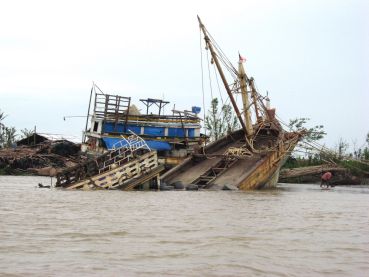 Ship sunk due to cyclone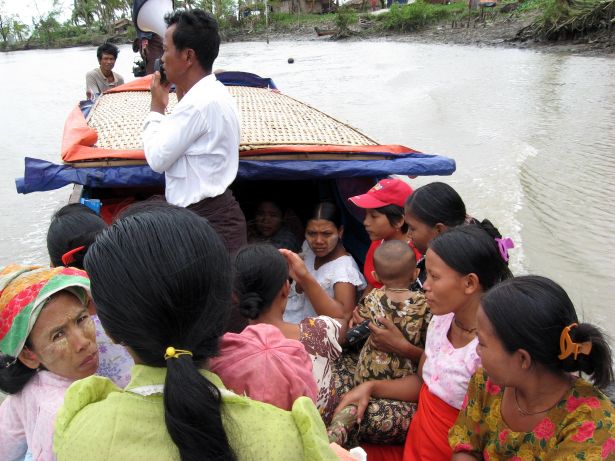 Using our boat to ferry to temporary clinic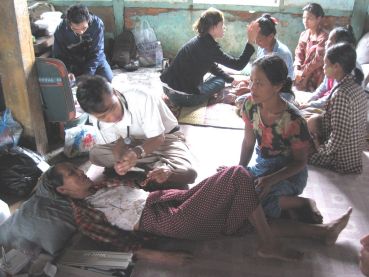 Sick women given medical tratmeatment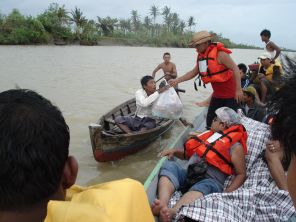 Handy pack received by fisherman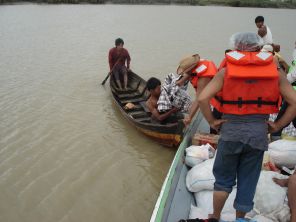 Piece of tarp recieved by a fisherman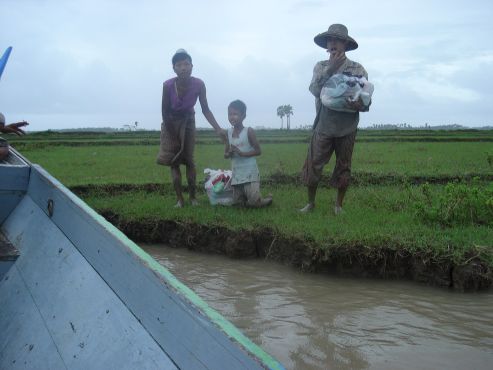 Thankful village girl acknowledging those who handed the handy pack
Generosity in Action will accept donations that will be forwarded to the individuals who wrote these emails for them buy and distribute aid. We trust them to have the ability to get materials into the devastated villages where the relief aid is currently stopped.

Tax deducible donations for Cyclone Relief can be made by check payable to "Generosity in Action" and mailed to:
Philanthropic Ventures Foundation
1222 Preservation Park Way
Oakland, CA 94612-1201
Be sure to indicate that the donation is for Cyclone Relief. (If you know the specific individual include his ititials.)
There are no administrative charges for donations made directly. 100% will be distributed to Burma.
You can donate via the internet - click here:



Note: Once at PVF/Donate page, locate the section "Designated Funds" - click the button for "Generosity in Action" - and specify "Cyclone Relief" in the text box."
There is normally a 3% administrative fee for internet transactions. GiA will cover the administrative fee on the first $5,000 of internet donations for Cyclone Relief.
This is page 6. To read earlier emails, click here.

Click here to go to page 2. received May 19th and 20th
To go to page 3 received May 21st
To go to page 4 received May 23
To go to page 5 received May 27 and May 29
Return to Home Page
This report is from Kyaw Soe - owner of Arcadia Travels in Rangoon
10 June 08
On 03 June we had given the cost for purchasing 15 sacs of rice and 4.5 buckets of edible oil to our friends. They scheduled the trip on Saturday 07 June. We promised them to contribute part the transportation cost this time from our funds. Another friends' medical relief team could not depart as scheduled on Thursday due to availability of the physicians. On Friday evening I was called by both friends about the trips in the same morning of Saturday 07 June. Since I have promised to provide my car as the transport for the physicians I cannot cancel that trip. So I had to cancel the trip with my friends who would bring our aid (rice, edible oil and tarps left from the last trip). Their destination is the villages in the same area of our last trip along Toe River. I met the medical relief team with two young physicians who are BBC (Burma Born Chinese). They had done it once on 30 and 31 May. We are heading for the same villages they had been which are located in two different areas. On the way out of Yangon we stopped at a pharmacy which opens pretty early at 7:30 a.m. lucky for some more medicine which the physicians thought they should have more. While they were in the pharmacy I spotted a toy shop next door opened early too. Surprisingly both shop owners are BBCs too. No wonder Chinese economy is rising too fast in the past two decades. People here joked about the coincidence of the key events in the recent history of both countries. When we had 1988 turmoil they had Tiananmen Square in 1989; September 2007 Saffron Revolution here and March 2008 crackdown on Tibetans; the natural disasters of the storm here and earthquake there recently. Joke is "Chinese government is shielding their protégé (Burmese Regime) so much that they share some of the spoils." Isn't that funny?

Anyway I got the idea of buying some plastic balls for playing football with village kids to provide them a psychological support after this destructive disaster. So I bought all of the shop's stock 12 large and 7 small plastic balls. We had to drive beyond Kun-gyan-gon town for some 70 km to get to the junction of the main highway and the access muddy road to a group of 5 villages called Taw-kyaung village tract (585 houses, pop.2496). The main village is Taw-kyaung. It took quite a number of sigh-relief after each pass over a couple of small muddy wooden bridges and some muddy potholes with big mud mound in the middle formed from the driving of bullock carts. The bottom of my station wagon hits hard several times and wished nothing happened. The pickup truck carrying medicine and other volunteers has very low chassis and heavy load so it got stuck at a couple of spots in the mud. All of us and some village folks passing by had to push hard to get it out. The rain was drizzling that morning. Think of that road how as much muddy as it can be! Well we arrived there at the destination safely and unloaded all medicine to a house in the village. Some villagers took the duty to pass the words of doctors arrival to sick villagers or patients who consulted last week already to come back if not OK. There were some patients who suffered from coughing, catching cold because of the flooding and rain during the storm. Later some village folks told us about finding some silt and mud in the lungs of dead people and animals after the post mortem. There are symptoms of pneumonia too. We had to use so many vials of tetanus toxoid for those who got cuts at feet or hands accidentally from scattered shards of clay pots, broken glass pieces, nails and corrugated iron roofs. People had cuts in the villages because most villagers and kids don't put don't have flip flops and they just walk in bare feet. Some kids got cuts from knifes and nails with which they played during mother is busy cooking or doing something. Some men got cuts from using machetes for cutting woods in the villages after the storm. There were also some kids and adults with acute diarrhea & dysentery. Those are most common symptoms. Some came up with high blood pressure due to the diet of too much salty food such as fish paste and fish sauce which are the most common food here especially at times like this. Some said they can't sleep well or much since after the day of the storm which keeps haunting in their mind. I had rice and pickled tea leaf salad in that house which other volunteers had some fried dried fish with chili.

Two volunteers whom I met in the same trip (also the first trip) had been with the medical team every trip (4 trips including this one). They have now become the assistants to medical doctors for handing the right medicine or band aid they need. After lunch I walked out of the house to go and check my station wagon if something happened from the tough road. I could easily see a few village kids were droning around the back of my car. So I went there at a faster pace to find out what happened to my car. Well the big attraction is the plastic balls in the back of my wagon they see through the windshield. I started exchanging some greetings with some kids and began pointing out some words I found on one kid's T-shirt which reads San Francisco. I taught them the pronunciation but they can't get it right. So I started singing like a singer with my fist near my mouth like a microphone. The song is "If we're going to San Francisco" That's all lyrics I know of a song I remember from my childhood. Kids liked it and repeated after me. Now they started requesting me to sing more. I said "why don't we play questions and answers". All of them asked how? Now there are some 15 plus kids standing in front of me. My questions are how many eyes we have so they answered two. I demanded them to point out the eyes. And ears and nostrils and shoulders. They happily shouted and gave me very quick response to me with their hands pointing to each body parts I asked them.

I took out my camera and asked how many fingers. All of them raised their palms towards me and said ten. I got that picture and hope I'm able to send it to you. Now it's the time to switch to other from the questions and answers because they look getting bored. The next game is to look for what I asked them. The winner would be prized with a plastic football. I could see the spark in their eyes. The first question is to tell me the sum of all numbers on the number plate of my car. Mine actually is 4Ka/8117. Most kids came up with the number 17 but only one of them smartly said 21. So she was awarded with the football. They were motivated and insisted me with more questions. One boy simply said that they want to play until all those footballs in my cars are gone. I asked them to guess my name. Many wrong guesses and one little kid said Mr. Bald Head in Burmese. Every kid laughed. This is just what I wanted! To make them laugh and happy!
I told them to listen my next question carefully. All of them got quiet and listened. The question is to pick up 10 plastic pieces. All of them scattered and tried to gather any plastic they can get around the school building where we are playing. I have to count all plastic pieces and the fourth boy had collected the right number. Others even 3 or 4 year-old kids still kept bringing me some more pieces of plastic. I had announced the winner and picked up a big plastic bag they have brought. After all plastic pieces are filled in that bag altogether I told them the plastic is not good for the soil where their parents grow rice by pointing out to the fields. Then I stashed the plastic bag in the back of my wagon and the prized was awarded to the winner. Unexpectedly some asked me why I put the plastic trash in the back of my car instead of dropping on the ground. I explained I would put the trash in the bin at my home and requested them to do so. They said they would do it next time. Kids (girls and boys together) played football too by dividing into 4 teams.

Everyone won a prize of plastic football. Finally kids are told that the big football called Euro 2008 is starting that night. (If you have any simple kid game for enhancing physical ability or intelligence please provide me for those kids.)
11 June 2008
In the late afternoon of 7 May we drove out of Taw-kyaung village towards Pyapon town which is one of the major rice trading towns on the delta. We got to there around 8:30 p.m. We are going to stay at a house which helps accommodate groups like us through acquaintances. After fried rice dinner at a Chinese restaurant we had to unload all packets of medicine to sort those again for quick access at the next village tomorrow. Beddings with bamboo mats and huge mosquito net at the mezzanine floor of the two-storey house which runs a store on ground floor were prepared for us during our dinner. That night I couldn't sleep because of the heat. So I got out of the mosquito net and sat near the small window at the feet of 5 male volunteers who are falling asleep. Very dark outside without street lights and heard a cheerful shriek from a distance from a nearby tea shop where one can watch the Euro 2008 opening match of Czech vs. Switzerland. A small fried rice shop in the street next to the house is closing their shop. Soon the single battery light of the fried rice shop was off and the outside world was pitch black and quiet. It must be about 11:00 p.m. I guessed. Rain started drizzling. The corrugated iron roofs are noisy when rain drops hit.
I had thought of villagers who don't have their houses rebuilt yet and some who don't have good roofs. What shall they do now in the middle of the night under the rain? How do the kids will be feeling now? Can they sleep? Suddenly I heard mosquitoes whirring near my ears. This is another trouble for villagers who don't have mosquito nets. I tried to get back to sleep. We woke up at 6 a.m. The rain was still drizzling. Afterwards some of us went out to the busy Pyapon market to replenish some medicine to our stock. We expected to go to several villages along the river. Afterwards we have left for the jetty with everything loaded. The prearranged motor boat by one volunteer arrived later.

It took 1 hr sailing downstream towards the south along Pyapon River which is one of the tributaries of Irrawaddy River. The estuary of the river is just less than a couple of miles distance where the river empties it water into the Andaman Sea. We turned our motor boat into a small river easterly. Soon we sighted small houses most of which are reconstructed along the river bank. This is our destination Kan-seik village (265 houses, 305 deaths). All houses are built along the river on the either side of the banks.
Before we started the trip my friend who organized the team has informed me that he needs a megaphone to invite villagers to come to clinic when we enter a village by the waterway. So I know a friend who has these. When I called him he told me suddenly that he would donate a new one. He requested me to buy one and he would reimburse me later. Now it's the time to use the newly purchased megaphone. I started with some lengthy invitation using polite words to come to the village monastery for receiving free medical treatment for those who are sick. Those who are not able to come, not convenient for coming of a half mile distance to the monastery the motor boat would go back for ferrying them to the monastery which will be the temporary clinic for us. After unloading all the medicine and setting up the perimeter in the monastery for providing treatment to villagers some patients already arrived. Then I got out with the boat for picking up the patients. Some of the so-called landings with a sticking out wooden bridge wide enough to stand two people are very high at low tide so the women has to come down by taking a big 3 foot step to land on the bow of the ferry or some without proper landing but to step into the knee high muddy water at the bank for crawling up into the boat. I was very happy to be able to give them a hand when did. When the boat was full of patients (women and children mostly) we headed back to the monastery. I spotted the doctor I know on another boat. We had three doctors in total with this new one which would be good for the crowd I have on board. Before we started the trip we had made a rendezvous with this doctor who would join us in this village. He would arrive at Pyapon by a taxi after he was discharged from his duty at the hospital in the morning in Yangon. I requested the doctor to go ahead into the monastery to get settle in with others. I paid the boat rental fee for the doctor and helped patients disembark the boat. That day we had to skip lunch.
During we were providing treatment and medicine to villagers a group of people arrived to distribute some rice and second clothes which made the whole courtyard of the monastery crowded with people.

After three hours there were no more patients so we packed up again and left for the next. The next one was Gway-chaung (120 houses, 107 deaths). At this village we don't see many people here for most people are trying to get to the other village to get some aid. I had distributed my magic plastic footballs bought from the store where we stayed in Pyapon this morning. After half hour we had left again for another village called Kan-su which would be our last destination of the day. I don't get exact data of houses here. They say they have over a hundred houses along with other one called Gway-gon village upstream. We have unloaded many plastic pieces for using as ponchos and some hand-me-down clothes for village folks. Kids here are very active without any hesitation to mimic my antics of raising hands into different directions as we do physical exercises.

They liked it so much to follow my way. I made it faster so some made mistakes other kids laughed at it. Then I tried to ask them to play a game with me. There were some 7 kids who wanted to play with me. The game is to tell one animal name at a time in turns. They tried every possible animal they know including strange names of fish they know. They don't know some animals I mentioned like porcupine or takin. I was very happy to explain the appearances of the animals they don't know. Soon the sun is about to set and we were ready to go back to Pyapon. Along the way I spotted the clearings of the houses stood until the cyclone swept those cleanly. Had the cyclone didn't hit this delta I could picture the area would be a utopia with beautiful light of the sun beaming over the green and golden paddy field with bamboo and thatch houses scattered all over. Now the spooky skeleton of trees on the bank with tangled rice straw carried and left by the killer waves on that disastrous night of 2 May could only be seen on either side of the bank. We got a motor engine problem on the way and waited until the boat man fixed it. It was pretty scary sailing upstream of Pyapon River without any light. So we had to dig out our flash lights to find spot sunken boats along the way cautiously to get back to Pyapon jetty in the darkness.
I met the the other group of friends who had left for Kwun-gyan-gon town yesterday (10 June). They hired a truck from Yangon and loaded it with some 25 sacs of rice (15 of our contribution) and 4.5 buckets of edible oil (our contribution), 5 sacs of bean, 200 packets of candles, 150 flash lights with batteries and 15 sacs of second hand clothes. They also had prepared some 30 handy packets to distribute to those they encounter on the way or those who live along the bank of the river in small huts. Things in the handy packs are 3.5 lbs of rice, 1.7 lbs of beans, one blanket, one mosquito net, one packet of candle, one gas lighter, 2 fish sauce cans, 2 instant noodle, one plastic water cup and one plastic bowl, 5 packets of green tea, 2 juice boxes, one packet of biscuit, 3 bars of soap, one pair of rubber flip flop, one cotton towel, one packet of fermented bean paste. They had hired a boat from Kwun-gyan-gon town and sailed out to the area along the downstream of Toe River. This time they brought life jackets with them. They have got to a village called Ma-yan-gyun (150 houses, pop.600). It is a small and poor village with high tide floodings so it is very muddy on the ground. Every house received about 6 lbs of rice, a packet of candles, 2 lbs of beans, 3 packets of green tea and a flash light with batteries. One sac of 108 lbs rice was donated to the village monastery. Clothes were more than enough to hand out one set of dresses each person. So they tried to give more to 4 pregnant women and old women in the village.
I gave them 100000 Kyats yesterday as promised before which is part the transportation arrangement.

This is page 6. To read earlier emails, click here.
Click here to go to page 2. received May 19th and 20th
To go to page 3 received May 21st
To go to page 4 received May 23
To go to page 5 received May 27 and May 29
Return to Home Page