Shortly after Cyclone Nargis hit the Irrawaddy delta of Burma May 2nd two travel organizations that Generosity in Action has worked with for a number of years asked if we could collect funds for them to distribute to help the local people. [As of 6/30 we anticipate that further funds will go to repbuilding schools in the area and for plowing equipment as described in later reports.] We were happy to do so. Below you will find segments from emails received from them. Because of their candid comments I have chosen to not include their names. If you wish further information, please email me at duncan@GenerosityInAction.org
You can send donations for aid to the people in Burma.
Click here for information.
Received May 27
Dear Duncan,
Our staff and young volunteers - 8 persons will leave 6 PM today (Sat) by boat, arrive next mornig 6 AM at Bogale, a big town in the area, also hit very hard. Will immediately go out with 2 motor boats to villages more than 2 hours journey to deliver the goods.
...

Our team left on Sat 24 May and came back safe in the wee hours of Monday.
They are writing a report which will be sent to you.

FYI, before the group left on Saturday we received more funds from friends and many bags of clothings, noodles and biscuits from neighbours and from fellow boarders of one of the volunteers. As we coordinated our work with UN peopl in the area, our UN friends told us to bring also salt and mosquito nets. So the final list of items donated is as follows:

-- Rice 50 bags of rice, at Ks 16,000 per bag,
-- Plastic roofing sheets 7' x 100 yards x 10 rolls,
at Ks 120,000 per roll
-- Salt 48 kilos total cost Ks 33,000.
-- Mosqito nets 100 at Ks 6.200 each
-- Transportation costs

They reached 4 villages and distributed the goods to some 1,700 people. Detail report with more pictures will follow. Attached a few photos taken by our team.

I hope you will appreciate the fact that we acted as quickly as possible because many people have not yet received any aid up to this time. We shall think of what we should do with the next contributions we receive.

Best wishes,
Received May 29
Dear Duncan,
In the light of the latest announcement by the UN, I feel that we have done the right thing at the right time. According to news reports, UN officials said that there have been some improvements in relief efforts, "but 1.5 milliom of the cyclone victims have yet to receive any help." " And access to remote areas affected by the cyclone is proving to be a logistical nightmare." So until UN and International Organizations announce they are able to give relief aid to all the people, missions such as ours which is also performed by many other local groups is necessary.

We will act fast. Items distributed will be the same as Mission 1. These are the basic things people need urgently.

Now with with (funds) you promised, I will pool resources with other donors to send a 2nd Mission -- just like the first. I will give out $ 1,700 now and collect it when you transfer later. This time may be to a remoter hard to access place. Getting info and coordinating with people in the area. Perhaps this coming Sat/Sun. All depends on the situation here. Conflicting reports on restrictions and detention of cars and people who went to donate goods.

Lucky our team was not detained last time, because they came back not from the main route, where all the detentions took place.

Fyi, attached is the data collected and coordinated by UN and NGOs in the Bogale Township area. This is the data for just one township. Gov proclaimed 47 townships mostly in Rangoon Division as disaster areas. Some townships are more devastated, some less. But this can give a sense of how bad things are.
Highlighted in blue are the 4 villages reached by our team.

[Click here to load the U.N. Report. It is an Excel file.]

Best wishes,


Generosity in Action will accept donations that will be forwarded to the individuals who wrote these emails for them buy and distribute aid. We trust them to have the ability to get materials into the devastated villages where the relief aid is currently stopped.

Tax deducible donations for Cyclone Relief can be made by check payable to "Generosity in Action" and mailed to:
Philanthropic Ventures Foundation
1222 Preservation Park Way
Oakland, CA 94612-1201
Be sure to indicate that the donation is for Cyclone Relief. (If you know the specific individual include his ititials.)
There are no administrative charges for donations made directly. 100% will be distributed to Burma.
You can donate via the internet - click here:



Note: Once at PVF/Donate page, locate the section "Designated Funds" - click the button for "Generosity in Action" - and specify "Cyclone Relief" in the text box."
There is normally a 3% administrative fee for internet transactions. GiA will cover the administrative fee on the first $5,000 of internet donations for Cyclone Relief.
This is page 5. To read earlier emails, click here.

Click here to go to page 2. received May 19th and 20th
To go to page 3 received May 21st
To go to page 4 received May 23
Return to Home Page
These photos accompanied the email May 27 that is printed to the left.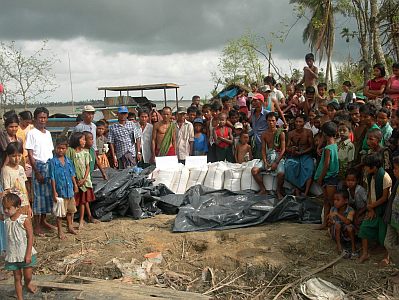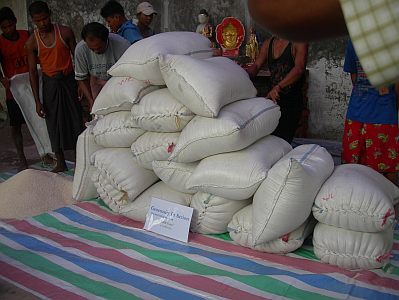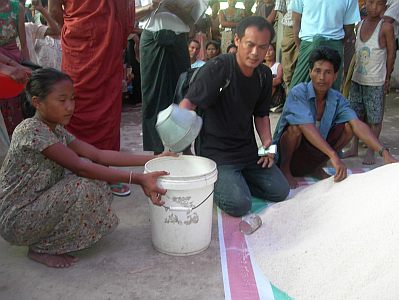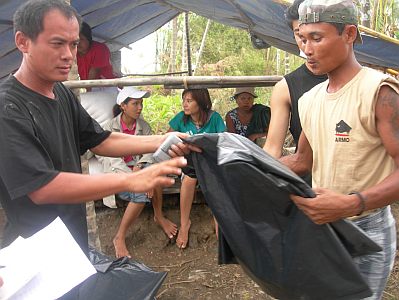 This is page 5. To read earlier emails, click here.
Click here to go to page 2. received May 19th and 20th
To go to page 3 received May 21st
To go to page 4 received May 23
Return to Home Page